From: People's Network-Jiangxi Channel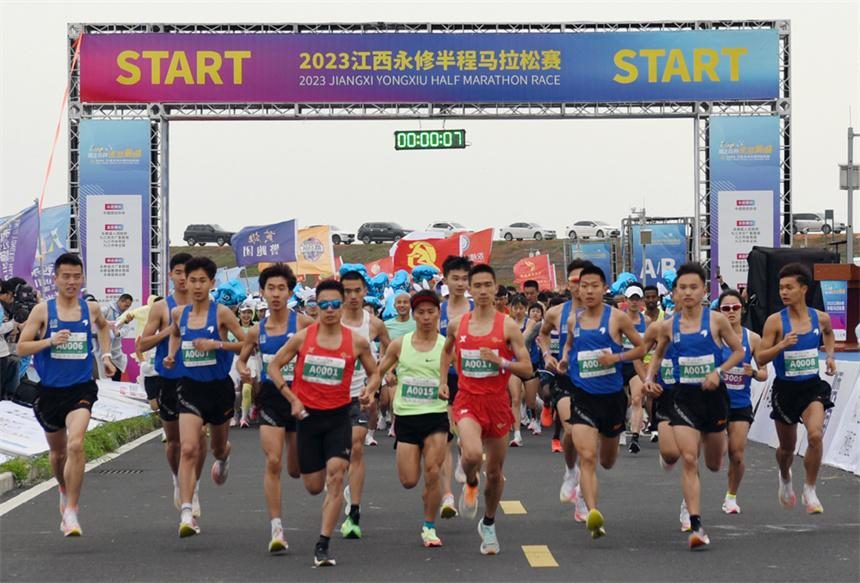 People's Daily Online Yongxiu On April 22nd, the much-anticipated "an all-consuming love Dreaming of Wucheng" 2023 Jiangxi Yongxiu Half Marathon started in Wucheng, a migratory bird town in China. More than 4,500 Chinese and foreign racers raced in the hinterland of Poyang Lake, deeply enjoying the beautiful scenery of "World Wetland and Migratory Bird Kingdom" and experiencing the ecological charm of Yongxiu with running and speed.
Certified by China Athletics Association, this competition is co-sponsored by Yongxiu County People's Government, Jiujiang Wenguang New Tourism Bureau, Jiujiang Sports Bureau and Jiujiang Forestry Bureau, and undertaken by Yongxiu County Wenguang New Tourism Bureau, Yongxiu County Education and Sports Bureau and Yongxiu County Forestry Bureau. A total of three events are set up: half marathon (21.0975km), national fitness running (7.5km) and party member model walking (7.5km). The routes are carefully planned by the organizing committee of the competition, accompanied by birds and flowers all the way, runners can enjoy the natural beauty of spring in Poyang Lake, and also enjoy the elegant demeanor of the migratory bird kingdom and the ancient town with thousands of years.
The contestants started from the tourist center of the migratory bird town in Wucheng, Yongxiu County, and passed through Wucheng scenic spots and landmarks such as Yongwu Highway, Poyang Lake Ecological Civilization Exhibition Center, Ji 'an Hall, Huanzhen Highway, Wucheng Paigong Lane, which is known as the "most beautiful water highway", and walked through the Poyang Lake Nature Reserve, with birds singing in their ears from time to time, which perfectly integrated sports with nature.
Located in the core area of Poyang Lake ecological wetland, Wucheng is one of the four famous towns in Jiangxi history, a national 4A-level scenic spot and the first "China migratory bird town" in China, with pleasant climate, fresh air and beautiful scenery, which provides an excellent place for all kinds of leisure sports and competitive competitions.
In the end, after fierce competition, China track and field athlete Peng Jianhua won the men's championship in 1 hour, 07 minutes and 20 seconds. MelkamAlemayehuTassew from Ethiopia won the women's championship in 1 hour, 12 minutes and 42 seconds. "This is my second visit to Yongxiu. I feel that people here are very enthusiastic and the track is the most beautiful track I have ever seen!" Peng Jianhua said happily at the half marathon award ceremony.
"Take the scene as the medium and make friends with the game. We organically combine sports, characteristic tourism and other advantageous resources to provide a good platform for the holding of sports events. At the same time, this will greatly enhance the popularity of scenic spots in Yongxiu and stimulate the development of local tourism. " The relevant person in charge of the Wenguang New Tourism Bureau of Yongxiu County said that next, Yongxiu will hold many wonderful activities such as cultural festivals, music festivals, cross-country rally races, lobster festivals, etc., to cultivate new highlights of tourism consumption, continue to polish the global tourism brands, and boost the high-quality development of the county's tourism industry. (Shi Yu, Zheng Wenbin, Li Panpan)