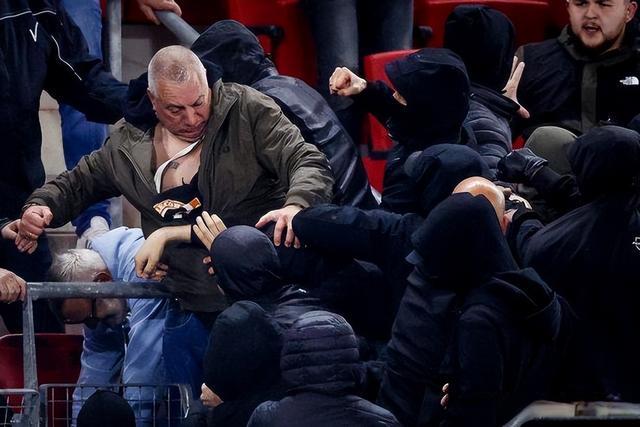 On May 20th, Beijing time, the British media "Mirror" reported that Fonal, who scored the goal, was not the only Hammer hero on the night when West Ham advanced to the UEFA final. Because after the game, the West Ham fans who played away from home were attacked by the fans of the home team, and then a fan bravely fought with dozens of extreme fans to protect his own fans.
That night, Fonal scored a winner in the 94th minute of the game, helping the Hammers win 1-0 away, with a total score of 3-1 to advance to the UEFA final, which is also their entry into the European final after 47 years. However, due to the ugly incident in the stadium, the celebration of the team was interrupted, and friends and family members of West Ham United players also became the targets of extreme fans in Alkmar.
Previously, the railing separating the fans of the two teams was removed, and those extreme fans dressed in black and black hats attacked the visiting fans, but West Ham fans would never sit idly by. In fact, a fan bravely repelled dozens of football hooligans and protected his fans. There is a photo circulating on social media, in which a man named "Knollsy" stands at the forefront of the conflict, trying to stop extremists who want to attack visiting fans, and he protects the weaker fans behind him. Although his coat was torn by his opponent, he did not hesitate to confront his opponent wearing a balaclava hat.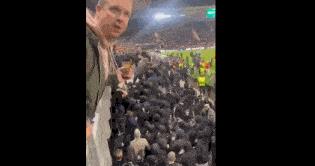 Another man in the crowd was very appreciative of these brave moves. He posted a photo on social media with the caption: "Knollsy, a legend. Stopped the home fans from attacking the players' families. Give him a final ticket. "
Many Dutch fans also praised Knollsy as a hero, and felt contempt for the behavior of extreme fans in Alkmar. He wrote in social media: "I am ashamed of the unbearable attacks of Alkmar fans. What they have done is disgusting."
Other fans also praised Knollsy's selfless behavior and "paid tribute to him". In fact, Knollsy was known to West Ham United as early as 2021, when he was struggling with illness. Then West Ham United player Rice posted a video on social media and said, "I just want to extend my best wishes to you and everyone in West Ham. We are all fighting for you, man."
In the clash on Thursday night, many West Ham players also wanted to take part because they wanted to protect their families and friends. UEFA has confirmed that disciplinary action will be taken against Alkmar and his fans after the full report is released.